Posted on February 9, 2017
The New York Knicks are a disaster.
They are 22-32, three and a half games back of a playoff spot in the Eastern Conference, and have lost three straight to kick off a five game stay at Madison Square Garden.
The president of the organization continues to poke and prod the team's star on social media and franchise greats are getting into shouting matches and physical altercations resulting in arrests on the sidelines.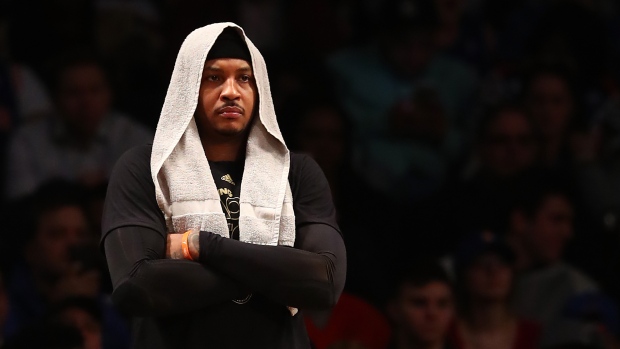 With a bonafide superstar in, the emergence of sophomore and the acquisitions of former Chicago Bulls stars and
, the Knicks were supposed to put rough recent history behind them. They even dared use the phrase "super team" before the start of the season.
Instead, hope in Phil Jackson as the team's saviour has faded, the boos for Anthony get louder and Charles Oakley is being charged with three counts of assault.
The Knicks have more questions and less answers than ever before.
How much longer will Jackson sacrifice his legacy? Is there a spot waiting for Melo in Cleveland? Isn't it about time owner James Dolan stepped into the spotlight and said something? Anything?
One things for sure: It can't get much worse for the Knicks.
Follow the trail of what has been a chaotic 2017 for the storied franchise.
tsn.ca
Posted on February 7, 2017
Now that two days have passed since the confetti fell on the greatest comeback in Super Bowl history, we can, as a nation, stop looking behind at a Patriots victory and instead look ahead to 2017, when every team has a fresh slate and harbors realistic hopes of making the 12-team playoffs that begin next January. (Except you, Jacksonville.) So, even with the duckboats still roaming Boston, we move ahead with 11 fearless predictions for the 2017 NFL season.
1.  Tony Romo's new team will finish with a better record than the Dallas Cowboys
Though Houston seems like the most obvious host for Tony Romo's last stand, the (soon-to-be former) Dallas Cowboys quarterback could go to Arizona, Denver or Kansas City, or maybe to a mystery suitor that comes out of nowhere to stun the NFL world by banking its near future on a 37-year-old with major back problems who has no real playoff experience. Either way, Romo will stay upright in 2017, and given that the team he's likely to sign with is one that can, and needs to, win now, look for Tony to be playing in the postseason.
2. Kirk Cousins will be in Washington playing the first year of a long-term deal
Oh, those silly Redskins. Here's a franchise that will throw $75 million at a cornerback (Josh Norman) less than 48 hours after he surprisingly hits the market but when presented with a choice on their own quarterback who played excellent football for the past two years (something the franchise hasn't seen in 33 years) they hem, haw and make bizarre statements to the media instead of wrapping him up with the long-term deal that's in the best interests of both parties. Though you can never rely on the Redskins to do anything right, I think Cousins is back in Washington with the long-term deal he's seeking. But if the Redskins lowball him badly enough he has no choice but to take the franchise tag year and play it out (or sit out, which I'd seriously consider), then bolt at the first opportunity next March. It's clear why the Redskins need Cousins, but it might be less so on why he needs them. He does, though. Because …