Posted on September 21, 2017
When Yankees third baseman Todd Frazier swings the bat, the ball will likely leave his bat at around 88 MPH if he makes contact. He's hit balls as hard as 110 MPH this season (twice), but ranks 198th among active hitters in average exit velocity. That means, on average, 197 hitters (technically) hit the ball harder than a player with 197 career home runs.
The differences in exit velocity for everyday major league players are negligible. Frazier's teammate, Aaron Judge, leads the league with a speed of 94.6 MPH. The weakest contact comes from Reds outfielder Billy Hamilton, who averages 84 MPH. Over the span of roughly 400 feet, the ball loses about half of its velocity, which means that, for example, a home run hit at 100 MPH ball won't decrease to 50 MPH until around the time it lands in the seats some four seconds later. A live baseball is one of sports' most dangerous flying objects, and potentially fatal when hit on a line. Read more
Posted on September 16, 2017
How long does it take a star defensive player to work his way back into the starting lineup after an offseason holdout?
About a week, apparently.
Rams head coach Sean McVay told reporters Friday that Aaron Donald would get the start on Sunday against the Redskins, six days after he reported to the club. Donald, 26, has made the Pro Bowl in each of his first three seasons and attempted to force Los Angeles' hand this offseason into getting him a lucrative contract extension.
The team officially added Donald to the active roster on Saturday.
The writing was on the wall this week in Los Angeles. Even defensive coordinator Wade Phillips, who spent the offseason sans Donald changing the team's 4-3 defense to a 3-4, said it wasn't going to be difficult integrating arguably the best interior pass rusher in football. Getting Donald one-on-one usually seals the deal.
So it goes for McVay, who had to weather a high-profile holdout during his first few months as the NFL's youngest head coach in history. Now, he's decided to simply let bygones be bygones and make his defense markedly better. With McVay's former team, the Redskins, in town this weekend, the Rams plan to pull no punches.
NFL.com
Posted on August 29, 2017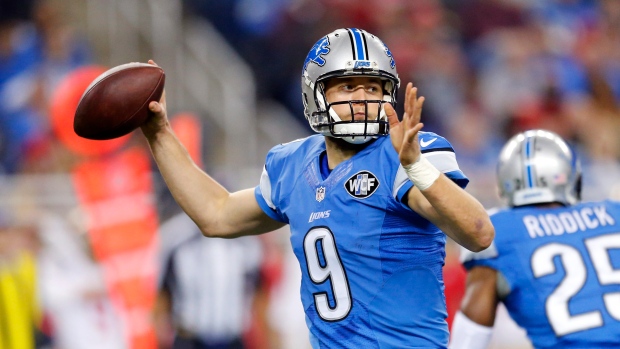 Matthew Stafford has agreed to a five-year contract extension with the Detroit Lions. The team announced Monday night the deal keeps the quarterback under contract through the 2022 season. Read more