Posted on October 10, 2017
On Monday, two teams punched their ticket to the League Championship Series. The Astros knocked off the Red Sox in ALDS Game 4 at Fenway Park (HOU 5, BOS 4) while the Dodgers completed their three-game NLDS sweep of the Diamondbacks at Chase Field (LAD 3, ARI 1). Both clubs are moving on.
Here is the updated postseason bracket: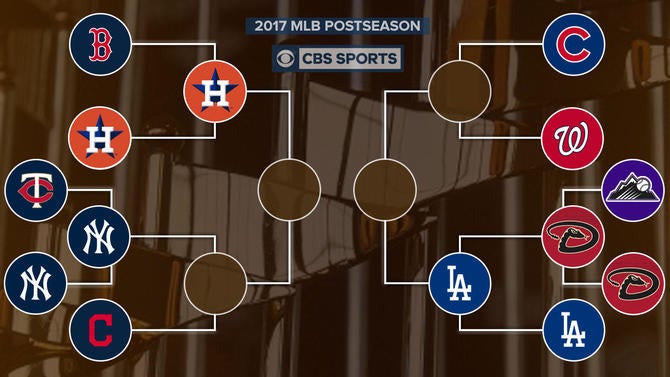 The Astros and Dodgers have moved on to the LCS.
The Cubs hold a 2-1 series lead over the Nationals while the Yankees and Indians are tied 2-2. They will play a decisive Game 5 on Wednesday night.
Now that we're a little deeper into the postseason and have a clearer picture of who will and won't be among the final four teams standing, let's look at some updated updated playoff odds from our friends at SportsLine (@SportsLine on Twitter). Here's what the projection system is telling us now:
AMERICAN LEAGUE LCS% WS%
Houston Astros (101-61) 46.65% 20.83%
Cleveland Indians (102-60)
23.68% 13.41%
New York Yankees (91-71) 29.68% 12.86%
NATIONAL LEAGUE LCS% WS%
Los Angeles Dodgers (104-58) 64.52% 35.13%
Chicago Cubs (92-70) 24.28% 11.81%
Washington Nationals (97-65) 11.21% 5.98%
Just to be clear, these are the projected odds to win each round. The Dodgers and Astros obviously have a 100 percent chance to reach to LCS. They've already clinched spots. SportsLine gives the Dodgers a 64.52 percent chance to win the NLCS and the Astros a 46.65 percent chance to win the ALCS. Got it? Good.
Interestingly enough, SportsLine gives the Yankees better odds win the ALCS than the Indians, who had the far better regular season record and also took a 2-0 lead in the ALDS. The Yankees did battle back to tie the series up 2-2, however, and the SportsLine projection system thinks they have a better shot to advance.
www.cbssports.com
Posted on September 26, 2017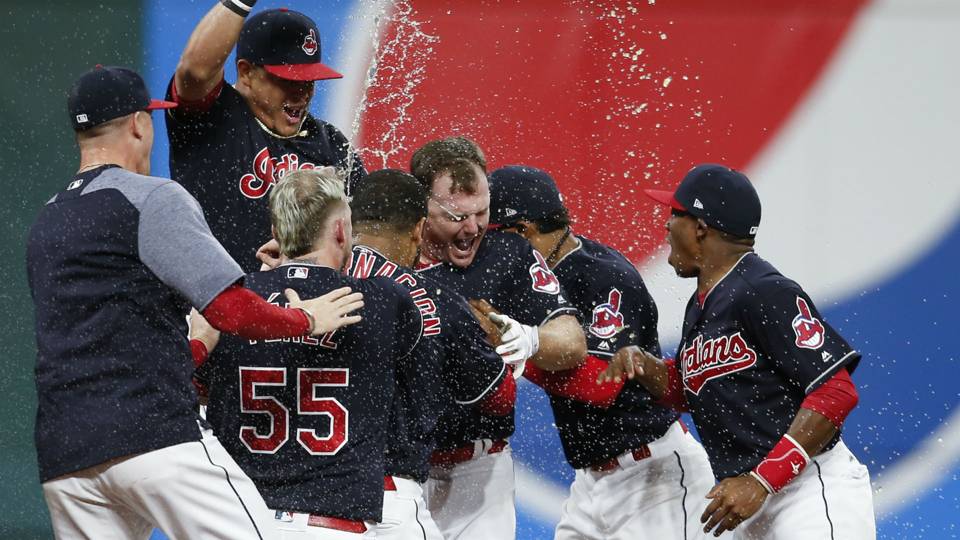 If the MLB season ended today, what would the playoff picture look like?
The playoffs are scheduled to start Tuesday, Oct. 3, with the AL wild-card game, followed by the NL wild-card game on Wednesday, Oct. 4. However, we already have a pretty good idea of what the MLB playoff bracket will look like entering those wild-card games.
Teams that have already clinched their division and earned a ticket to the playoffs are: the Cleveland Indians (AL Central), Houston Astros (AL West), Washington Nationals (NL East) and Los Angeles Dodgers (NL West).
The Boston Red Sox and New York Yankees have clinched at least a playoff berth, while the Arizona Diamondbacks have clinched the NL wild card. The Red Sox can clinch the AL East as early as Wednesday; the Twins can clinch an AL wild card as early as Tuesday; and the Cubs, who have clinched a tie of the NL Central, can clinch the division as early as Tuesday.
Sporting News takes a look at the latest projected MLB playoff picture as the regular season winds down.
Projected MLB playoff bracket
Here is the projected MLB playoff picture:
AL wild-card game — Oct. 3
No. 5 seed Twins vs. No. 4 seed Yankees at New York
NL wild-card game — Oct. 4
No. 5 seed Rockies vs. No. 4 seed D-backs at Arizona
ALDS (best-of-five series) — Oct. 5
Wild-card game winner vs. No. 1 seed Indians at Cleveland
No. 3 seed Red Sox vs. No. 2 seed Astros at Houston
NLDS (best-of-five series) — Oct. 6
No. 3 seed Cubs vs. No. 2 seed Nationals at Washington, D.C.
Wild-card game winner vs. No. 1 seed Dodgers at Los Angeles
ALCS (best-of-seven series) — Oct. 13
TBD
NLCS (best-of-seven series) — Oct. 14
TBD
World Series (best-of-seven series) — Begins Oct. 24
The 2017 World Series will start Tuesday, Oct. 24.
sportingnews.com
Posted on September 25, 2017
NFL players across the league knelt, locked arms, raised their fists and even refused to come out of the locker room during the national anthem Sunday. They were joined by coaches and even owners.
It comes in the wake of President Donald Trump's recent comments and tweets on protests during the anthem.
It started early Sunday morning in London, as more than a dozen Baltimore Ravens and Jacksonville Jaguars players knelt during the U.S. national anthem at Wembley Stadium. The kneeling players then stood for the singing of the U.K. national anthem. Read more