Posted on September 14, 2016
Minnesota Vikings head coach Mike Zimmer is not happy word of who the team would start last week leaked two days ahead of their game against the Tennessee Titans.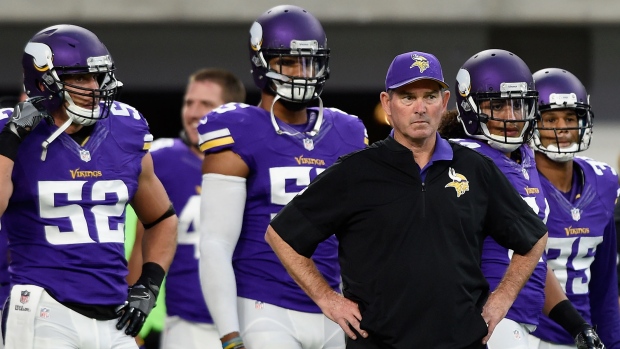 This week, Zimmer is considering keeping his starting quarterback plans a secret from his team to ensure the Green Bay Packers don't get word.
"Typically I do [tell the players]," Zimmer said in a conference call on Wednesday per ESPN. "I did last week. I don't know if I will this week or not because it started leaking. Usually I like to inform the team of everything that's going on here and what I'm thinking, but I was a little disappointed that some of the things go out.
"We'll just see how it goes. I may talk to them. I don't know. Maybe I will."
Shaun Hill got the start for the Vikings last week against Sunday because Sam Bradford did not have a firm enough grasp of the team's playbook. Bradford was acquired eight days from the Philadelphia Eagles for a first-round and fourth-round draft pick.
Hill completed 18 of 33 passes against the Titans for 236 yards without a touchdown or interception. The Vikings defeated the Titans 25-16 with two defensive touchdowns.
Packers head coach Mike McCarthy said Wednesday his team expects to face Bradford on Sunday night.
foxsports.com
Posted on September 14, 2016
Top-ranked teams facing enormous road tests. Potential playoff elimination games. Crucial conference contests. Intriguing nonconference matchups.
The stakes are so high it's hard to believe it is only week three of the college football season.
Where to start? How about this? For the first time in the history of the AP college football poll, the Nos. 1, 2 and 3 teams will all be playing ranked teams in true road games. For two of the teams hosting those games, a loss likely means scratching at least one goal for this season off the list.
No. 19 Mississippi (which faces No. 1 Alabama) and No. 14 Oklahoma (which faces No. 3 Ohio State) each opened the season with high-profile losses. A second will make reaching the College Football Playoff a very long shot. You can throw No. 18 Notre Dame (1-1), which faces No. 12 Michigan State at home, into that category, too. Though be careful to bury a team with two losses.
Last season, Stanford with two losses found itself on the edge of playoff contention, in need of just a few Championship Saturday upsets, to have a strong case to make the field. As Power Five teams play more conference games and take on tougher nonconference challenges, it seems inevitable that a team with two losses will make the playoff at some point.
And if any of the Sooners, Rebels or Fighting Irish loses on Saturday, all will try to convince themselves that they will become the first two-loss team to make the playoff.
Read more